Day 19!  Less than a week!
The answer to yesterday's quote is The Pumpkin Patch.  Flynn is talking to Dale.   
T
oday's Guess the Quote:

"You were the one who made it clear conversation wasn't going to cut it."
~~~~~~~~~~~~~~~~~~~~
Today's Fun Thing:  Bingo Time!  As alluded to in Silver Bullet Everest, here is the Manipulative Behavior Bingo Sheet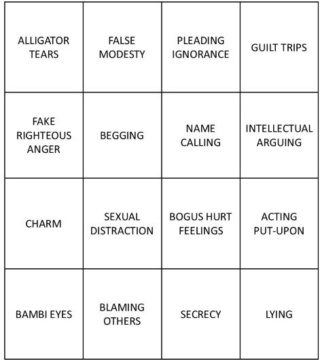 ~~~~~~~~~~~~~~~~~~~
Story To Check Out: Nick and Damien - On THe Seventh Day of Christmas

~~~~~~~~~~~~~~~~~~~
A Christmas Tour with Ranger! - Kew Gardens
In London is Kew Gardens, one of the most famous tourist attractions. Originally land part of the 13th Century Sheen Palace, this botanical garden houses the largest and most diverse botanical collection in the world. At Christmas, the garden is filled with lights and night tours take you through the light cathedral and past the 300 floating lanterns on the lake. Take a look at the articles and video to see more.
https://www.timeout.com/london/things-to-do/christmas-at-kew-gardens-1
https://www.youtube.com/watch?v=0Q04a4C-A0w
https://www.standard.co.uk/go/london/attractions/christmas-kew-gardens-london-lights-a3996981.html
http://www.kew.org/science/tropamerica/cristalino_map.htm
The garden is surrounded by different snacks and meal options including roast chestnuts and mulled wine:
https://www.kew.org/sites/default/files/11583_c%40k_2018_email_map_01.pdf
In a quiet corner of the garden you can also visit Queen Charlotte's cottage: https://www.hrp.org.uk/kew-palace/explore/queen-charlottes-cottage/#gs.WL1zScA  a country retreat built for rest and afternoon tea, that at one time housed a kangaroo paddock.... really!
~~~~~~~~~~~~~~~~~~
Trisha's Trivia:
1. The White Knight was in the service of ..... ?
2. When was the garage constructed?
3. Who led the ballet down hill?
Trivia # 2 - I went right to The Brig and found a vague reference to the garage being constructed in the 60's or 70's.  Up until then, Philip kept his car in the barn.

Trish - should I keep looking or is this what you intended?

jkfan

A What




Posts

: 5926


Join date

: 2015-08-10


Age

: 70


Location

: Portland, ME




Trisha Louise

Yak Whomper
Moderator




Posts

: 3895


Join date

: 2013-08-30



No 1 ANZ....Dale was Their White Knight.

Hayjude

A What




Posts

: 4737


Join date

: 2016-04-03


Age

: 56


Location

: Australia



Today's quote - Taverner's Inn

Ash to Gerry while Gerry is making the acquaintance of the lexan

jkfan

A What




Posts

: 5926


Join date

: 2015-08-10


Age

: 70


Location

: Portland, ME



Trivia # 3 - Keeper's Yard

Paul sees the stud stallion (Pirate) working in conjunction with Gerry and Roger to bring the herd in ahead of a blizzard.

Roger and Gerry are leading with Pirate hearding the mares in front of him.

jkfan

A What




Posts

: 5926


Join date

: 2015-08-10


Age

: 70


Location

: Portland, ME




---
Permissions in this forum:
You
cannot
reply to topics in this forum